We employ creative and experienced professionals who demonstrate outstanding commitment to quality, integrity and personal service. While we deal with necessary practical considerations, our interactions with clients are always characterized by sympathy, and understanding.
Please contact us for assistance at 925-846-5624
Wesley Fisher
Wesley "Wes" Fisher, President of Graham-Hitch Mortuaries located in Pleasanton and Danville, is a licensed funeral director with over 40 years' experience. He is a licensed crematory manager with extensive experience in crematory operations, and he is Past President of the Association of California Cremationists. Wes is also a veteran of the U.S. Air Force.
He and his wife, Leslie, along with their three daughters and eight grandchildren, are longtime residents of the East Bay. – FDR 2222
"We are very grateful to Wes for the dignified services and personal attention he provided"
Al and Irena R. , San Ramon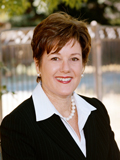 Deanna Moser
Deanna Moser, a licensed funeral director since 2005, has extensive experience in advanced funeral planning. A former flight attendant with American Airlines, she serves as the Director of Advanced Planning for Graham-Hitch Mortuary.
"I have a rewarding opportunity of guiding and assisting families with the many details and decisions associated with advance funeral planning. I really enjoy my career and consider it an honor to serve the wonderful people of our community."  – FDR 2714
"Deanna Moser did an excellent job helping us complete our funeral plans last year. She explained everything fully, answered all our questions, and even gave us ideas when asked. We were very happy with how smoothly the process went."
John and Charlotte C., Danville